News

Longtime campus contributor Wells Fargo is giving a $100,000 grant to help students at the University of California, Merced, design technologies that address some of the Central Valley's water, energy and food needs.

Professor Kara E. McCloskey will speak this week about cardiovascular stem cell engineering as part of the Modesto Area Partners in Science (MAPS) lecture series. The free talk will begin at 7:30 p.m. Friday, Jan. 30, in Sierra Hall 132 at Modesto Junior College's West Campus.
December's storms boosted water levels in state reservoirs, but unusually warm temperatures meant rain instead of snow for parts of the Sierra Nevada, according to Prof. Roger Bales.

A group of students in the most recent School of Engineering capstone design course at the University of California, Merced, devised a sweet solution to a local farm's harvesting problem – one that is reaping long-term benefits for the farm and the students.
Research into sustainable water supplies and viable solar energy solutions won the University of California, Merced, an anticipated $5 million in prestigious and competitive grants from the University of California.
Every day, your brain completes millions of complicated functions without you even being aware of them, and it learns as it goes.

Helios, the start-up behind the Helios Bars – handlebars that transform any bicycle into a "smart bike" – is continuing to make its mark on the business community.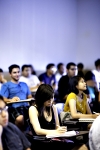 The School of Engineering has hired four faculty members for the 2014-15 academic year, giving the campus 212 tenure-track professors who expand the depth and breadth of research expertise.
Pages