News
Eleven graduating seniors were recognized earlier this month for academic achievement, research
Editor's note: This story originally appeared in the spring 2016 issue of UC Merced Magazine
A proposal to conduct high-performance computing across science and engineering disciplines has won UC Merced andProfessor Christine Isborn a research computing cluster that will be used for a variety of pro

As a senior engineering student, Michael Urner selected a capstone project he related to.

The drone research lab at the University of California, Merced, has catapulted the campus to the leading edge of the unmanned aircraft systems (UAS) field, and now the campus has been chosen as the new hub for UC systemwide policies, procedures and training protocols.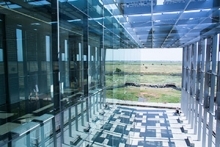 An increased gift from longtime campus partner Wells Fargo is allowing more engineeri


Many studies have shown that raising cattle and pigs for food is hard on the environment, and fish has long been considered a better alternative.
But the work of UC Merced graduate student Brandi McKuin indicates that because of emissions, fishing for large fish like tuna warms the climate just as much as raising pork, pound for pound.

In his first faculty position, in his first year at UC Merced, Professor Dong Li has won his first grant from the National Science Foundation (NSF), and it's a prestigious Faculty Early Career Development (CAREER) award.
"I'm really honored," said Li, who works in supercomputing. "It's very exciting."
Pages