News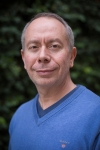 Professor Victor Muñoz's novel approach to advancing biomedical research has earned him the campus's first prestigious Keck Award, including $1 million over the next five years.

A new organization at UC Merced is working to close the gender gap by engaging, supporting and mentoring women in fields traditionally dominated by men.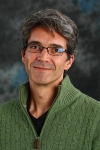 Biodiversity Professor Michael Dawson has been named UC Merced's inaugural Faculty Climate Action Champion by the UC Office of the President (UCOP).
The federal Defense Advanced Research Projects Agency (DARPA) recognized this year's team of UC Merced engineering students for its design of a device that cools high-powered electronics aboard military aircraft.

A small team of undergraduate students from UC Merced is gaining major exposure in a global competition to design portions of what could be the next big innovation in transportation.

More than 70 people learned about the research and education opportunities offered by UC Merced's new Merced nAnomaterials Center of Energy and Sensing (MACES) during an open house Dec. 4.

All of life is motion — whether it is molecules shuttling around within our cells or flocks of birds in the sky.
UC Merced's innovative Spatial Analysis and Research Center is mapping the next chapter in its development with a new faculty co-director and efforts to show imaginative uses for geographic information systems (GIS) tools.

Two overlapping research projects involving UC Merced professors could have big implications for the region's economy and effects on renewable energy, water and wildfires.

Pages