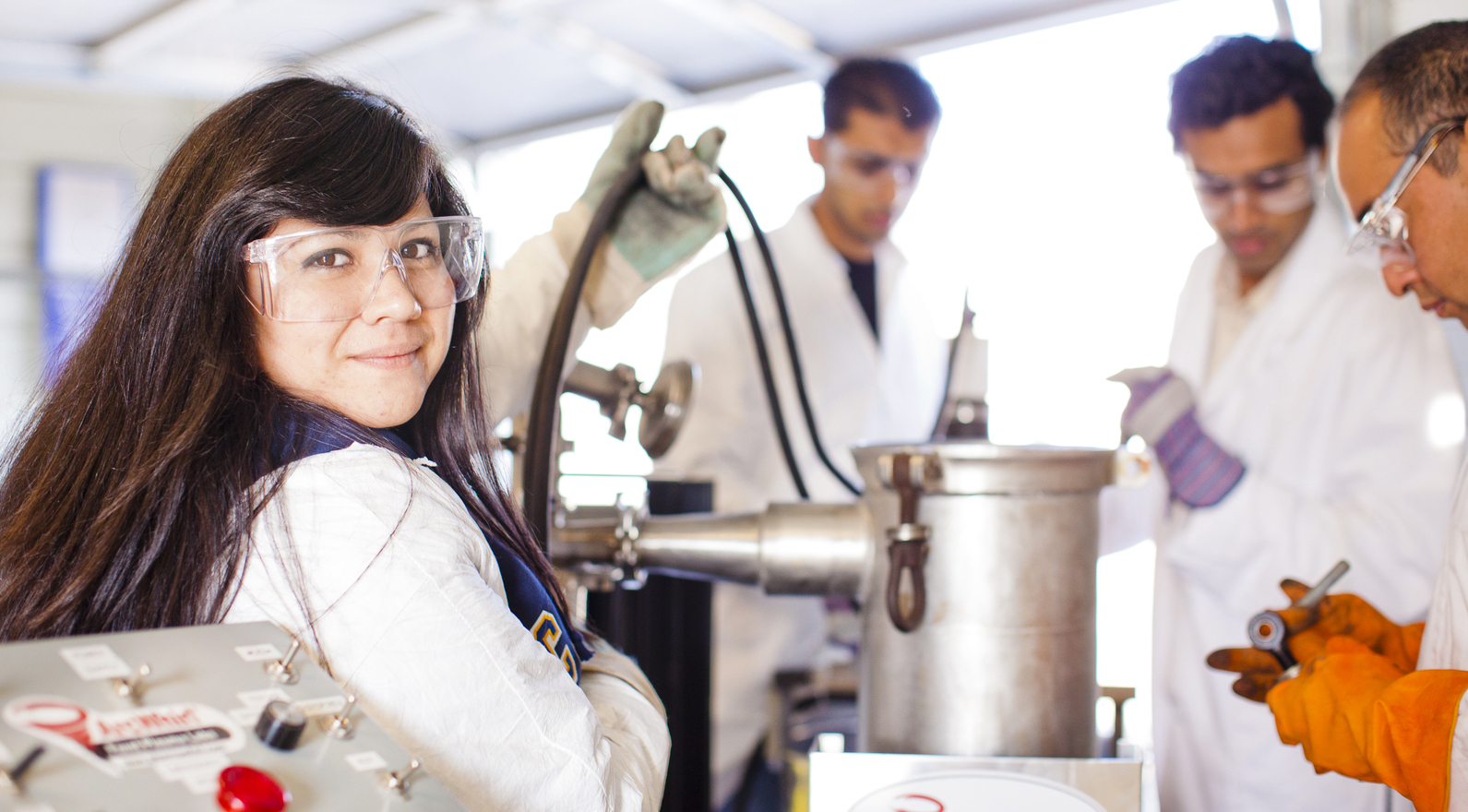 At just a little over 16 years old, our graduate programs are already among the best in the nation.   
Interdisciplinary and Cross Collaboration
The dynamic School of Engineering is home to world-class faculty leading cross-disciplinary research in Bioengineering, Environmental Systems, Electrical Engineering and Computer Science, Materials and Biomaterials Science and Engineering, Mechanical Engineering and Management of Complex Systems*.
The School has 7 disciplinary undergraduate degree programs, as well as two minors:
The School oversees seven (7) interdisciplinary graduate groups/programs, including two management programs*:
Innovative research ideas generally transcend the scope of a single discipline, which is why UC Merced's School of Engineering is built within an interdisciplinary framework. The collaborative environment fosters a culture of creativity among both undergraduate and graduate students.  Graduate students engage in individualized research-based programs that offer unique opportunities to work closely with faculty mentors to learn — and pioneer — the most recent advances in their fields.
All professors and lecturers have the potential to span graduate groups and undergraduate majors. We have several faculty members who have cross-school hires with both the School of Natural Sciences and the School Social Sciences, Humanities and Arts, and a number of engineering faculty are members of other UC Merced graduate groups outside of engineering.
Exciting Research
Researchers here are imaging immune cells inside living mouse models and advancing solutions for cancer, diabetes and heart disease; designing solar collection materials that can be built in space for NASA missions; solving entrepreneurial challenges that put people and the planet on the same par with profit; modeling the changing climate in new and more accurate ways to contribute to the nation's shift to renewable policies and technology; engineering precision agriculture robotics and artificial intelligence that will guide renewable food systems for the world; imagining and then creating new software to make computers more accessible to people of all abilities; and building wearable organic electronics, just to name a few of the exciting projects happening now.
Lasting Impact
The School of Engineering leverages research and teaching to serve the San Joaquin Valley and California. Our program distinguishes itself via the intensity and quantity of our scholarship and service engagements with communities throughout the San Joaquin Valley. But beyond that, the valley serves as a bellwether for the future of our nation and of many regions around the globe by virtue of our demographics and geography.
By bringing science, engineering and management thinking to problems at the nexus of food, energy, water, air pollution and health care services, we aim to solve local problems that will have global impact.
Showcasing Research and Student Opportunities
Several events throughout the year are designed to showcase the work of students and faculty, including Research Week and the Innovate to Grow competition and expo.
UC Merced also offers unique opportunities for our undergraduate students to immerse themselves in groundbreaking research -- for more information, visit Undergraduate Research Opportunities Center (UROC).