News
Every day, your brain completes millions of complicated functions without you even being aware of them, and it learns as it goes.

Helios, the start-up behind the Helios Bars – handlebars that transform any bicycle into a "smart bike" – is continuing to make its mark on the business community.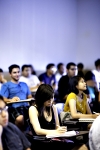 The School of Engineering has hired four faculty members for the 2014-15 academic year, giving the campus 212 tenure-track professors who expand the depth and breadth of research expertise.

As the climate warms, sources of the water so critical to life everywhere on Earth are drying up.
By the end of this century, communities dependent on freshwater from mountain-fed rivers could see significantly less water, according to a new climate model recently released by University of California researchers.

The long-awaited Science and Engineering Building 2 officially opens today, providing more space for instruction, research and offices.
The ribbon-cutting ceremony begins at 1 p.m.
Thirty months in the making, the building is designed to foster interdisciplinary work for researchers across UC Merced.

MERCED, Calif. — California is deficit-spending its water and has been for a century, according to state data analyzed recently by researchers from the University of California.

Jose Garcia, a fourth-year student, will spend next summer as the only intern in Chevron Oronite's Tribology division, with a small group of researchers who delve into lubricants, additives and the relationship between machines and fluids for the multinational corporation.
The past two years, the division has chosen an MIT student for the summer position.

Graduate student Ryan Lucas is living a mountain-lover's dream through his research.

Two University of California, Merced, students – Viridiana Murillo and Alexandro Perez-Tovar – won first prize in their divisions at the recent Society for Advancement of Hispanics/Chicanos & Native Americans in Science (SACNAS) conference in San Antonio, Texas.
Pages