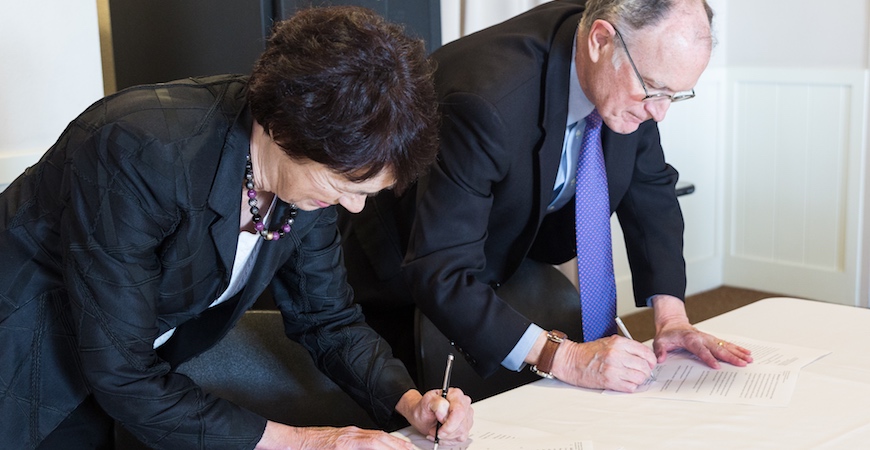 At a ceremony held earlier today, UC Merced Chancellor Dorothy Leland and Lawrence Berkeley National Laboratory Director Michael Witherell signed a memorandum of understanding (MOU) to establish a formal partnership between the two organizations. The agreement sets terms for the appointment of joint faculty and the sharing of resources.
"This agreement formalizes and brings structure to what has already been a fruitful relationship between UC Merced and Berkeley Lab," UC Merced Chancellor Dorothy Leland said. "When we combine our complementary strengths and our unique resources, there will be no limit to what we can achieve."
The agreement is the first of its kind for UC Merced. Though the university has de facto working relationships with multiple Department of Energy National Laboratories, including research collaborations with Berkeley Lab and adjunct faculty at Lawrence Livermore National Lab, the MOU represents the first official partnership between UC Merced and a national lab.
"This MOU formalizes Berkeley Lab and UC Merced's commitment to build on existing relationships, and to look to the future in possibly creating joint programs between the two institutions to solve research questions in new and unique ways," said Witherell.
The MOU will facilitate formal split appointments between UC Merced and Berkeley Lab, according to UC Merced Vice Chancellor for Research Sam Traina. Faculty employed under the terms of the agreement will receive official positions at both institutions. Recruitment, appraisal and tenure decisions will be made jointly. Startup costs and salaries will also be split evenly.