Several students, faculty members and the provost represented UC Merced at the University of California's recent Carbon Slam event, placing in the presentation competitions and increasing the campus's visibility among peers and the public.
Professors Michael Dawson, Elliott Campbell, Martha Conklin and Roger Bales attended, Executive Vice Chancellor and Provost Tom Peterson served as an emcee, two of Campbell's graduate students each won $1,400 by placing third in their presentation categories, and two other graduate students were finalists in the poster competition.
Carbon Slam aims to present solutions to global climate disruption. Organized by UC Santa Cruz Professor Sue Carter, Carbon Slam gave students from all 10 UC campuses the chance to pitch their research to a panel of expert judges on the topics of climate change impact and solutions. Each student had three minutes to convince the judges that their idea held the greatest potential to have an impact on the fight against climate change.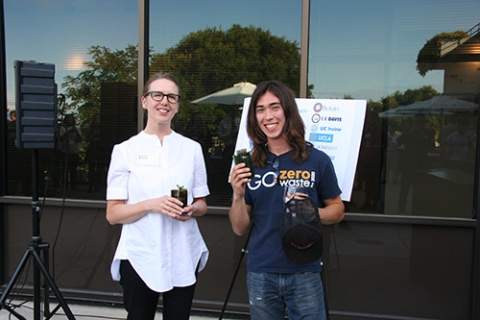 "UC graduate students are tremendous researchers, and there is huge potential to turn their research into real-world applications. Carbon Slam helps them achieve this potential," Campbell said. "That's the beauty of this kind of event — it showcases their science and the real solutions."
One student from each campus presented in one of two categories: Climate Solutions and Climate Impacts. Valley natives Andrew Zumkehr and Brandi McKuin, graduate students in Campbell's lab both placed in their categories.
McKuin's presentation in Climate Impacts covered "U.S. Tuna Fisheries: Sustainable Practices at Odds with Climate Change Mitigation," a topic she has received media notice for this year when she revealed that fishing isn't as sustainable as previously believed because of carbon emissions.
Zumkehr earned high marks in the Climate Solutions category for his proposal to cover California's water canals with solar panels to help generate solar energy and cut back on water loss from evaporation.
"I have never done anything like this before," Zumkehr said. "I was completely out of my skill set, so third place was great."
McKuin also had to expand her comfort zone for the competition.
"I learned to synthesize my research for a broad audience, and to overcome my fear of public speaking," she said.
Dawson, UC Merced's Faculty Climate Action Champion, presented research he's conducting with graduate student Lauren Schiebelhut, another Valley native, into a mysterious starfish wasting disease and a subsequent boom in the number of baby starfish. The disease and baby boom were recently featured in National GeographicOpens a New Window. magazine.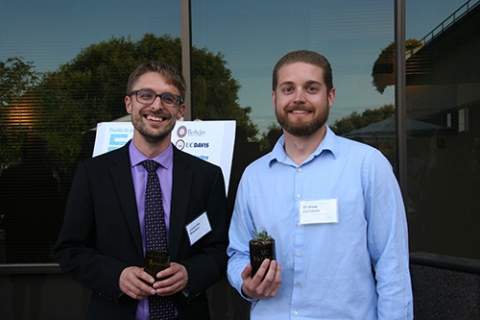 Another of Campbell's graduate students, James Stinecipher, presented a poster titled "Carbon Sequestration in Tropical Forests: A Solution Under Climate Change?" His research focuses on the ability of tropical forests to sequester carbon and how that ability could change under climate change scenarios.
"As CO2 levels increase, it can stimulate plant productivity, which could allow forests like the Amazon to store more carbon," he said. "On the other hand, rising temperatures and changing precipitation regimes could end up decreasing productivity, reducing the amount of carbon that could be stored. In order to understand which of these scenarios is more likely, our lab uses a trace gas called carbonyl sulfide as a proxy for plant productivity. We can use data from satellites, airplane flask samples and flux towers in atmospheric models that simulate these different conditions."
Stinecipher was named as a finalistOpens a New Window. in the competition, winning $600, along with a graduate student from Professor Michael Beman's lab, Jesse Wilson, with his poster on "The Dark Side of the Carbon Cycle: Simulating Changing Environmental Conditions Using Natural Gradients and Mesocosms to Study Their Effects on Marine Respiration."
Carbon Slam is sponsored by the University of California Global Climate Leadership Council Faculty Engagement and Education working group and the University of California Faculty Climate Action Champions. Carbon neutrality by 2025Opens a New Window.is one of UC President Janet Napolitano's goals for the entire university system.
As chair of the working group, Provost Peterson said he was particularly pleased to see the level of participation in the Carbon Slam from all UC campuses. 
"The president's goal of carbon neutrality by 2025 is an aggressive and a necessary one," he said. "In our faculty and students, we have the best minds in the world focusing on this challenge. Carbon Slam has given the UC community a quick glimpse into the exciting progress we are making.