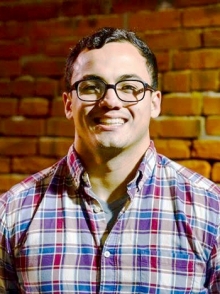 A science literacy nonprofit created by UC Merced students is gaining an international foothold with planned expansion into classrooms in Ecuador.
Growth is nothing new for BEAT — short for Biology, Engineering, Agriculture and Technology — but jumping the border is a significant step for the organization.
BEAT co-founder and UC Merced alumnus Steven Duval Ruilova recently met with business leaders and educators in Quito, Ecuador, to discuss the organization's model, which includes classroom instruction for students and professional development for teachers.
Based on those talks, Ruilova said, BEAT plans to launch a pilot program in collaboration with Universidad San Francisco de Quito, a private, nonprofit liberal arts university in Ecuador. That partnership will help the organization deliver services and resources to teachers throughout the country.
"They have a need for the next generation of science, technology, engineering and mathematics (STEM) students," Ruilova said. "But the teachers are not equipped to teach it."
Claudia Tobar is director of the IDEA institute and editor-in-chief of Para el Aula Magazine at the roughly 5,000-student university in Quito. She said teachers in Ecuador often lack proper professional development in science education.
"We are hoping this program will help schoolteachers improve their understanding about science," she said. "This program could really help educators look at concepts and STEM in a different way."
Tobar said a pilot program could launch in late 2016 or early 2017.
The Spanish-speaking Ruilova, whose parents emigrated to the U.S. from Ecuador, leaned partly on family connections to cultivate relationships there. In May, he spent a week in Ecuador to meet with Tobar as well as officials from Grupo Faro, an independent think tank, and Ensena Ecuador, part of a global institute dedicated to expanding educational opportunities.
The BEAT model — which brings together students, teachers and professionals — inspires cooperation and collaboration, he said. While the current focus is Ecuador, Ruilova believes it is a model that can thrive in other areas.
"We're very confident it can work," he said. "This is something that also is needed in other countries in South America."
Ruilova and Michael Urner were students at UC Merced when they co-founded BEAT in 2014. The organization aims to improve science literacy for students, adults and the community — beginning in the classroom.
"We started with the idea of science literacy and thought the first way to do that was through the school system," said Ruilova, who graduated in 2014 with a bachelor's degree in molecular and cell biology.
BEAT puts undergraduate and graduate students from UC Merced in local classrooms to explain and explore scientific concepts through lessons and interactive experiences.
"We encourage them, and also encourage them to fail — a lot — because that's where you're learning," Ruilova said.
BEAT also offers seminars that help teachers learn more about science and engineering concepts, and then integrate that knowledge into the curriculum.
From a small pilot program in Merced, BEAT has now expanded throughout the region to offer classroom instruction, professional development for teachers and consultation services.
Petia Gueorguieva, coordinator for the STEM Resource CenterOpens a New Window. at UC Merced, said BEAT and its co-founders have been key supporters of STEM education. The center has partnered with BEAT on several projects, including a recent "STEM Day" that brought roughly 100 Merced County students to campus to participate in a range of hands-on activities.
She is impressed with the organization's work here and its plans for expansion abroad.
"I am positive that BEAT will be able to assess the needs in Ecuador, and am confident they can provide a program that meets those needs," Gueorguieva said.
Ruilova, who grew up in North Carolina and moved to Sacramento while in high school, plans to attend graduate school after turning over BEAT to the next generation of UC Merced students.
He said he chose to attend UC Merced partly because he saw the chance to make a difference at a young and still-growing university.
"What I have learned at UC Merced has helped me trail-blaze this path and speaks to the type of education the university provides to its students," Ruilova said.