Innovate to Grow, the annual showcase of UC Merced student creativity, features some amazing teamwork this year, from medical and agricultural devices to mobile applications for saving energy and water.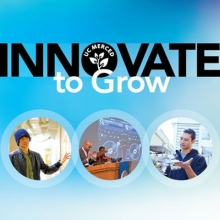 May 15 is the date for the fourth annual Innovate to Grow competition, the culmination of the engineering Capstone Innovation and Design Clinic (IDC) and other spring semester activities.
Innovate to Grow showcases exciting innovations from more than 40 teams from the IDC, Engineering Service Learning and the Center for Information Technology Research in the Interest of Society (CITRIS) Mobile App Challenge.
IDC is the capstone project experience for graduating seniors from the Engineering Capstone Design and management entrepreneurship courses, in which interdisciplinary teams of students work with organizations and industries to define engineering problems, discover solutions and demonstrate results. Participating partners include E. & J. Gallo Winery and Valley Children's Hospital, both of which have supported the IDC since its inception in 2012.
Engineering Service Learning is an experiential-learning course for undergraduates who work on multidisciplinary teams to solve design challenges faced by local nonprofit organizations while developing professional and technical skills.
Innovate to Grow features the final competitions for the Mobile App Challenge and Engineering Service Learning programs as well as semifinals and finals for the Innovation Design Clinic teams.
During the event, student teams present the results of their projects and demonstrate their innovations to a jury of industry and community representatives using posters, elevator pitches, videos and presentations to make their cases.
The Mobile App Challenge asks student teams to develop applications that align with CITRIS's goals, including health care, civic engagement, the environment, energy and education.
"The challenge teaches students the basics of user design and product development. They learn how to make a pitch and a business plan — all of which is part of winning the competition," Jeff Laird, a CITRIS research assistant and UC Merced graduate, said, said. "They get a lot of great experience and resources here on campus and in the Valley — entrepreneurs, tech people. This can be a great resume builder."
App winners share in cash prizes in different categories, including an additional, new prize this year — an extra $500 from the University of California's Global Food Initiative for the best food-related mobile app.
Hundreds of students from the School of Engineering participate in Innovate to Grow each year, including teams from Engineering Service Learning, UC Merced's cornerstone engineering experience, designed to expose first-year students to the power of engineering. Like the capstone seniors, the service learning students work with local nonprofits and other organizations to design real, usable solutions to specific challenges.
Multiple provisional patent applications have been filed on inventions coming out of past Innovate to Grow projects, further exemplifying the creativity of UC Merced students and the commercial relevance of the work they are performing. Teams with commercially viable projects will have opportunities to expand and develop their ideas in the soon-to-open Venture Lab business incubator in downtown Merced.
"To help ensure student success, education must not only consist of technical skills, but also professional skills, and skills that enable students to be leaders in their fields," School of Engineering interim Dean Erik Rolland said. "Innovate to Grow provides an avenue for students to test their abilities to lead innovation and change."
Everyone is invited to attend the various presentations and events to learn more about the teams' projects, which this year include engineering designs to help medical patients breathe easier and stabilize the poles that carry intravenous medications; optimize conveyance systems and methods for reusing packaging material in food processing; improve sweet potato planting efficiency; increase bicyclists' visibility with a self-powered lighting system; minimize use of water in lumber processing and fruit transport; and many others.
For a full schedule of the day's events, see the Innovate to Grow calendar online.