At a conference of the Society for Hispanic Professional Engineers, Jessyca Kamel, a junior from Los Angeles, wore her UC Merced shirt on her morning coffee run.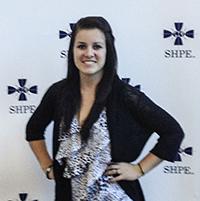 "I bumped into one of the PG&E recruiters," said Kamel, a mechanical engineering major. "She saw my sweatshirt, and instantly we were talking about PG&E and how they are one of the School of Engineering's biggest sponsors. She invited me to her workshop later that day. I went to the workshop, participated and made my presence known. Later that night I got called for an interview, and three days later I was offered the position."
Kamel's work in PG&E's Gas Operations department will be one building block in her plan for success, stacked between previous internships (at Cyth Systems and General Electric) and her plans to study abroad in Brazil, where she was born.
She has also assisted engineering Professor Qinghua Guo's research.
"We analyzed climate samples and performed data quality checking for weather systems," Kamel said. "I also helped process weather data sets for analysis of precipitation density throughout different regions of the world."
After she receives her bachelor's degree in mechanical engineering next year, Kamel plans to work in industry for a few years, then pursue a graduate degree.
"With my technical background in engineering, my goal is to become an architectural engineer who designs, builds and creates the aesthetics of the whole building," Kamel said.
But that career trajectory represents only one aspect of Kamel's multifaceted, deeply involved life at UC Merced. She spent two years on the campus's club basketball team. She's also been a member of the Society for Women Engineers, an important support mechanism in a field that's still mostly populated by men.
"At first I felt intimidated and almost inadequate, like this wasn't the right career choice for me," Kamel said. "But after being vice president [of Society for Hispanic Professional Engineers], I realized I do have it in me to be an engineer. I joined SWE because I want to reach out to other women; I want to show them that if you fight and look past the ratio of women to men and just work hard you can fit in — and even stand out."
As if that weren't enough, Kamel just completed her first year as a resident assistant for on-campus housing.
"You can make a difference in someone's life, whether it's helping them with a roommate issue, a personal issue or a lockout," Kamel said. "It feels so good to know that at the end of the day, you were able to help your residents and put smiles on their faces."
She plans to continue working as an RA for the 2013-14 academic year.
And after graduation, it's a sure bet she'll continue relying on UC Merced connections as she literally builds her future.
That sweatshirt is heading for greatness right along with her.