Graduate student Kaitlin Lubetkin and several sure-footed assistants spent much of the summer in Yosemite National Park.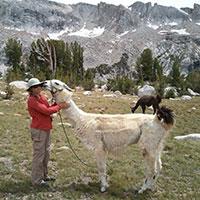 Her frequent hiking companions were Toronado and Bravo — llamas who shouldered up to 100 pounds of equipment. The pack animals were critical to her continued research on conifer tree encroachment into subalpine meadows in the Sierra Nevada.
"They make it possible to do those longer trips," Lubetkin said.
Lubetkin is a UC Merced engineering graduate student and Ph.D. candidate with an interest in botany, plant ecology and Sierran ecosystems. She's a member of the Environmental Systems Graduate Group, an interdisciplinary group that includes faculty from all three of the schools at UC Merced. She's been studying conifer encroachment — mainly lodgepole pines — into meadows and how that proliferation can impact hydrology.
Her work received a boost this year from the Natural Reserve System's Mildred E. Mathias Graduate Student Research Grant program. The $2,900 award supports Lubetkin's dissertation research in Yosemite.
"It really helped me get in my last summer of research," she said.
Engineering Professor Anthony Westerling, whose research areas include climate change, is one of Lubetkin's advisers, along with Professor Lara Kueppers. Westerling said Lubetkin is a dedicated field researcher who is organized and driven.
"The work she is doing is extremely important for our understanding of how climate change is affecting these important resources, which influence water flows downstream in the summer time," Westerling said."Her work contributes to our understanding of what our treasured Sierran landscape will look like in the decades to come, and how we should best manage this resource."
Lubetkin, of Placerville, is in her fifth year at UC Merced. She hopes to finish in 2014 and then find a job with the national forest or park service.
In 2007, Lubetkin earned her bachelor's degree in biology from the University of Puget Sound in Tacoma, Wash. She wanted to continue her education and UC Merced was a natural choice.
The university is home to the Sierra Nevada Research Institute and also is close to Yosemite. In addition, the campus environment felt more familiar to a young woman who grew up on a small family farm.
"Coming from a rural area, I had to get out of the city," Lubetkin said.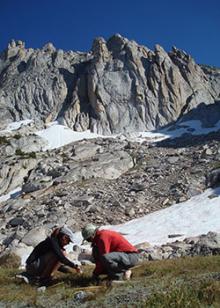 Her research looks at how meadows above 9,000 feet in Yosemite are being changed by the spread of conifers. Those meadows have high water tables and also act as sponges during the snow melt, she said.
Conifers compete for water and their litter makes it tougher for meadows to hold onto moisture. Lubetkin said changes in the meadows could mean changes in the water supply for California.
In part, she has been measuring the size of meadows, counting and tracking the growth of trees and measuring the moisture content of the soil. Her research will help determine the extent of the hydrology change and provide insight into the best time to remove conifers to protect the meadows.
The llamas proved to be good companions and helpers for Lubetkin, who compared them to goats on the family farm. She had about 30 sites to visit throughout Yosemite, and some were four miles or more from the trailhead.
Frequently, she was out in the field for three or four days — and sometimes up to two weeks. That was long enough to learn the personality quirks of the llamas.
Toronado, for example, wasn't a fan of walking downhill, she said. And Bravo, who was new to packing work, wasn't always keen on following Toronado.
"But they were really fun," Lubetkin said. "And they were great company."