HOW TO USE THE ROOM RESERVATION SYSTEM (EMS)
For a PDF version of these instructions.
The following provides a brief overview of how to book a room using the campus EMS Room Booking System
Go to page: http://room.ucmerced.edu
Click the table graphic under EMS Room Reservation System.
Login using your my.ucmerced.edu portal information.
Click on "book now" for "Grad Student Meeting Rooms" (or "Faculty/Staff Meeting Rooms" if booking on behalf of faculty).
Screen 1
Edit date, time, etc.
For a recurring appointment, click on "Recurrence" (choose an end date).
Under "Date & Time," click on "Add/Remove" under "Locations" to choose a building.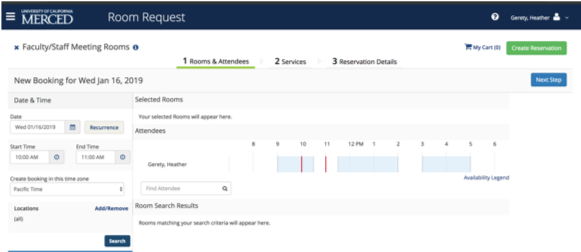 Screen 2
Choose available room. (Click "+" sign next to room number.)
Click through to "3. Reservation Details."
Please note:

Rooms You Can Reserve will allow you to instantly book the room.
Rooms You Can Request requires approval (please wait on official confirmation email before booking other services, such as catering).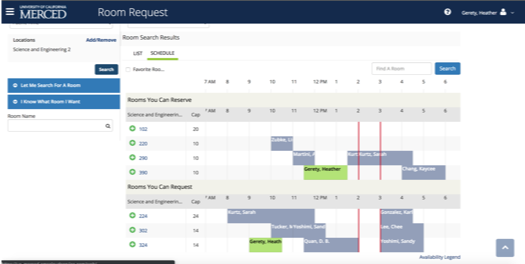 Screen 3
Edit reservation name (note: whatever is entered in "Reservation Name" will auto-populate in "Subject").
After either choosing the room or completing the reservation, you may "add attendees."
Click "Create Reservation" and you're done! J