Submitted by tkubo on May. 15, 2013
UC Merced is known around the world for its research into the environment and its systems. Our faculty members are experts on the scientific principles underlying the function and sustainability of natural and engineered ecosystems, and the policies affecting them.
We have a solid core of researchers examining the effects of climate change both near and far, from mountaintop mining in America and the Sierra Nevada snowpack, to lake populations in Palau and crop growth in Africa.
Founding faculty member Professor Roger Bales is the director of UC Merced's signature research institute, the Sierra Nevada Research Institute (SNRI).
"The Sierra Nevada Research Institute exemplifies UC Merced's commitment to conduct innovative, multidisciplinary research and teaching programs that are rooted in the region but have global significance," Bales said. "The work we do on water supply and quality, drought, forest fires, climate change and related issues will be shared broadly through cooperative research and exchange programs and through formal agreements."
Bales is also known for his work in the Southern Sierra Critical Zone Observatory, a National Science Foundation-supported collaborative effort to investigate the cycle of water, climate change, and how animals and plants respond to these changes.
Meanwhile, Professor Michael Beman is part of a research team examining environmental changes in marine lakes, including why some species adapt while others go extinct. Beman's work focuses on microbial communities in the lakes. Using advanced DNA sequencing, he'll get extremely detailed views of the microbial communities and can see whether they have changed over time the same way the other biological communities have. The researchers will also examine interactions among microbes and large organisms.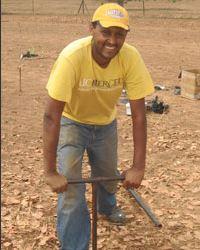 In addition to the typical environmental topics such as climate change, hydrology and biodiversity, we have researchers delving into the environment's role in world hunger. More specifically, UC Merced Professor Teamrat Ghezzehei and a team of researchers are trying to solve the issue of deadly famine in Senegal by taking a closer look at two shrubs that seem to help nearby plants thrive.
"It's well known there, and lots of farmers plant their crops near these shrubs," Ghezzehei said.
Researchers now want to figure out why.
"That would enable us to intelligently design how we plant and grow these shrubs," Ghezzehei said.