Submitted by dquan2 on Apr. 19, 2023
Photo: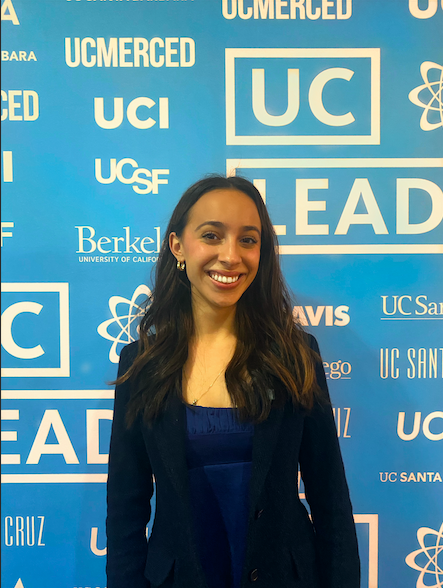 Department:
Civil and Environmental Engineering
Major:
Environmental Engineering
Description:
Why UC Merced?
UC Merced gives many opportunities for undergraduate students to pursue research. I value all of the unique perspectives of students and faculty around me at our Hispanic-Serving Institution, and have
used that to guide my research interests.
Why Your Major?
I chose to pursue Environmental Engineering because of its mission to providing sustainable solutions for environmental problems, while taking into account the social and economic implications of engineering
decisions. The work is very relevant and it's innate to be passionate about current issues.
Inspiration and Mentors
Both Dr. Colleen Naughton and Dr. Josué Medellín-Azuara have been pivotal mentors in my research experience at UCM, teaching me vital lessons as a researcher and student with unconditional support. They've encouraged me to
embrace my background and use my perspective to conduct meaningful research for the benefit of members in my own community and beyond.
Memorable Academic Experience
I've been fortunate enough to be published first author in a peer-reviewed journal on a paper through the Naughton Lab. I have also conducted research at the Scripps Institution of Oceanography through UC LEADS at UCSD, and partnered with universities in Mexico through the WSM Lab to collaborate on research efforts regarding climate resilience in drought-ridden communities.
What's Next?
After graduation, I will continue to conduct research at UC Merced throughout the summer with the WSM Lab. In the Fall, I will begin my pursuit of a PhD in Civil and Environmental Engineering with the Osman Lab at Stanford University. There, I will further explore and develop sustainable and equitable solutions for water management in the state of California. I hope to be a professor one day at a research university.
Anything else?
I would like to thank every faculty member in the Environmental Engineering department for continually supporting me in my studies and pushing me to be better student and engineer. I would also like to thank Jorge Arroyo and UC LEADS for giving me the opportunity to enter the realm of research, and the constant support they've provided me to be where I am today. Lastly, I would like to thank my parents for always encouraging my interests in the environment and the arts, and not let anything hinder my love for learning.