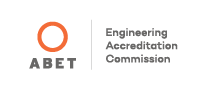 The Materials Science and Engineering program at UC Merced is accredited by the Engineering Accreditation Commission of ABET.
Materials Science and Engineering Program Learning Outcomes
Students graduating from the program shall possess:
an ability to identify, formulate, and solve complex engineering problems by applying principles of engineering, science, and mathematics
;
an ability to apply engineering design to produce solutions that meet specified needs with consideration of public health, safety, and welfare, as well as global, cultural, social, environmental, and economic factors;
an ability to communicate effectively with a range of audiences;
an ability to recognize ethical and professional responsibilities in engineering situations and make informed judgments, which must consider the impact of engineering solutions in global, economic, environmental, and societal contexts;
an ability to function effectively on a team whose members together provide leadership, create a collaborative and inclusive environment, establish goals, plan tasks, and meet objectives;
an ability to develop and conduct appropriate experimentation, analyze and interpret data, and use engineering judgment to draw conclusions;
an ability to acquire and apply new knowledge as needed, using appropriate learning strategies.
Materials Science and Engineering Program Educational Objectives
Within a few years of graduation, alumni of the Materials Science and Engineering program are expected to:
Be active in solving contemporary problems through application of advanced science and engineering principles to materials systems.

Communicate effectively, in written and spoken format, with professional and broader communities.
Have demonstrated an integrated understanding of the scientific and engineering principles underlying the four major elements of the field (structure, properties, processing and performance), and applying and integrating knowledge from each of the four elements of the field to solve materials selection and design problems.
Practice engineering in an ethical manner, respecting regulatory concerns and the broader impacts of engineering solutions.
Program enrollment and graduation data are available on the Institutional Planning and Analysis website at the following links: (enrollment table) (graduation table) 
Visit the Registrar office for the latest catalog and School of Engineering courses.
Materials Science and Engineering Faculty
For a listing of the School of Engineering Materials Science and Engineering faculty.