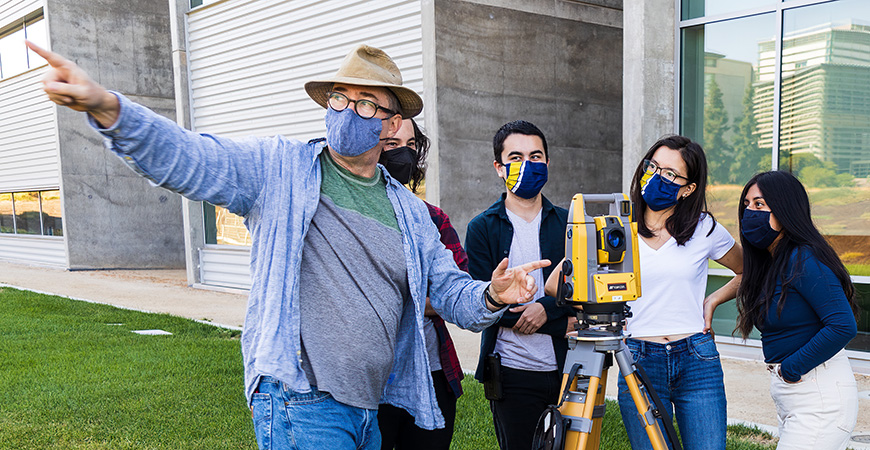 Civil Engineering Program Learning Outcomes
The B.S. degree in Civil Engineering (CE) will be offered by the School of Engineering through the CEE Department faculty.
The program will be consistent with UC Merced degree hallmarks, producing program graduates who will:
Demonstrate a strong disciplinary foundation, engage in interdisciplinary thinking, think critically, problem-solve, apply varied aspects of information literary, monitor and guide their own learning, describe the origins of knowledge, and demonstrate an inquiry-based approach to the world;

Respect and value diversity, seek and recognize new cultures;

Understand and contribute to their local and global communities, possess a sense of place, act ethically, and be responsive to the needs of society;

Be proficient in collaboration and teamwork, possess strong communication skills, serve as leaders in their professional and civil communities;

Demonstrate initiative, respond to challenges with resiliency and learn from failure, and assume responsibility for their education and in life-long learning.
For civil engineering, it is important that program PLOs are consistent with the national engineering accreditation (ABET) Program Educational Objectives (PEOs) while remaining consistent with our institutional outcomes. From this perspective, our CE graduates are expected to achieve a set of student outcomes outlined by ABET (www.abet.org) by demonstrating:
An ability to identify, formulate, and solve complex engineering problems by applying principles of engineering, science, and mathematics;
An ability to apply engineering design to produce solutions that meet specific needs with consideration of public health, safety, and welfare, as well as global, cultural, social, environmental, and economic factors;
An ability to communicate effectively with a range of audiences;
An ability to recognize ethical and professional responsibilities in engineering situations and make informed judgments, which must consider the impact of engineering solutions in global, economic, environmental, and societal context;
An ability to function effectively on a team whose members together provide leadership, create a collaborative and inclusive environment, establish goals, plan tasks, and meet objectives;
An ability to develop and conduct appropriate experimentation, analyze and interpret data, and use engineering judgment to draw conclusions;
An ability to acquire and apply new knowledge as needed, using appropriate learning strategies.
In addition to the seven general PLOs above, ABET prescribes the following specific content[1]:
The curriculum must prepare graduates to apply knowledge of mathematics through differential equations, calculus-based physics, chemistry, and at least one additional area of basic science; apply probability and statistics to address uncertainty; analyze and solve problems in at least four technical areas appropriate to civil engineering; conduct experiments in at least two technical areas of civil engineering and analyze and interpret the resulting data; design a system, component, or process in at least two civil engineering contexts; include principles of sustainability in design; explain basic concepts in project management, business, public policy, and leadership; analyze issues in professional ethics; and explain the importance of professional licensure.
Program enrollment and graduation data are available on the Institutional Planning and Analysis website at the following links: (enrollment table) (graduation table) 
Visit the Registrar office for the latest catalog and School of Engineering courses.
Bioengineering Faculty
For a listing of the School of Engineering Civil Engineering faculty.