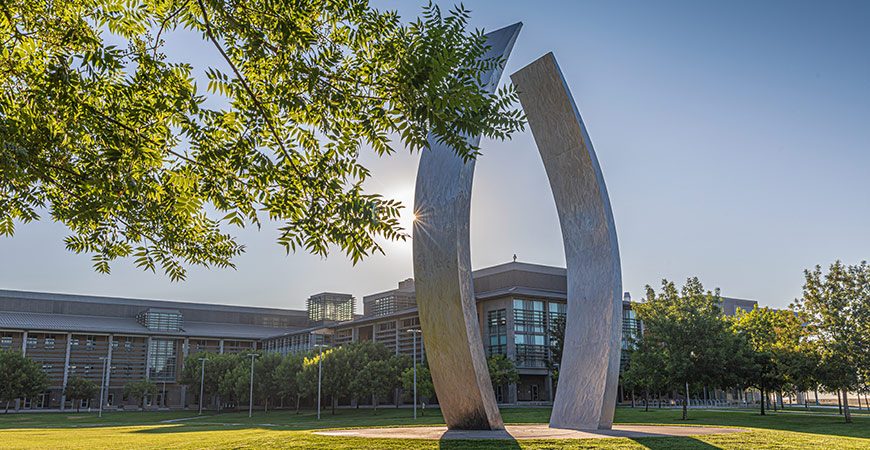 For the first time, UC Merced has been awarded a Platinum rating in recognition of its sustainability achievements under the Association for the Advancement of Sustainability in Higher Education (AASHE) Sustainability Tracking, Assessment & Rating System (STARS.)
Platinum is the highest rating a higher education institution can receive for its sustainability programs and actions. Currently, only 11 institutions throughout the nation have earned this rating.
The rigorous selection process recognizes universities that demonstrate great strides to combat challenges of environmental degradation, prioritizing stewardship and conservation.
"This recognition marks a pinnacle point in the ongoing leadership efforts of UC Merced to foster a sustainable and equitable institution. Throughout the years, our campus community has been committed to being a driving force for a sustainable future and will continue to strive to set an example for everyone," Chancellor Juan Sánchez Muñoz said.
AASHE's STARS is the most widely recognized international framework for publicly documenting long-term sustainability goals for already high-achieving institutions, as well as entry points of recognition for institutions that are taking first steps toward sustainability.
"This is yet another monumental defining moment for our campus that recognizes how we as an institution have embedded sustainable concepts into how we operate, teach and engage our campus community. I am proud of our campus. This is why we are a model and national leader," Director of Sustainability Mark Maxwell said.
UC Merced joins UC Irvine and UC Berkeley as the only UC campuses to achieve a STARS Platinum rating. The only other California institution to earn a Platinum rating is Stanford University.
"This rating is a culmination of actions taken on multiple fronts by so many on our campus to get to this point," Office of Sustainability Assistant Director Breeana Sylvas said.
Collaborations throughout the campus have been critically important to meeting the demands of building a resilient university, she said. Campus community members shared their enthusiasm as they have helped shape UC Merced's actions.
"It is exciting to be part of a campus that has created a culture of sustainability. We are not satisfied with the status quo and will continuously strive for improvements in energy efficiency and overall environmental impact," Director of Engineering Services Jim Brugger said.
"We will not stop working on building a healthier sustainable community improving the lives of students through access and equity around essential services," Assistant Director for Basic Needs Services Bavneet Kaur said.
"This collaborative achievement demonstrates how institutions can foster a just and sustainable world building on sustainability education and research involving faculty and students," said Professor Mike Dawson, chair of the Faculty Advisory Committee on Sustainability.
As the newest UC campus, UC Merced has proven its commitment to sustainability as a trailblazer for sustainable concepts, and the campus efforts have not gone unnoticed. The university became the first public research institution in the United States to achieve carbon neutrality, five years ahead of the University of California System goal of 2025. The campus was recognized with a resolution from the California State Senate for its achievement.
UC Merced is also the only institution in the United States to have all its buildings certified under U.S. Green Building Council (USBGC) Leadership in Energy & Environmental Design (LEED).
UC Merced's renowned distinction for its sustainability efforts has been one key element for students to commit to the institution.
"Here at UC Merced, I know we deeply care about the impact we have. I was able to put into practice my skills as an environmental engineer, thinking critically and proposing actions we could take," environmental engineer alumna Robylene Seapno said. "I am proud to have graduated from UC Merced, proud of what we have accomplished and proud of what we are working on."
In the past five years, UC Merced has received over 15 awards for its actions and programs, recognitions that have included the Large-Scale Planning Award for its Sustainability Strategic Plan, Renewable Energy Award for the campus energy strategy, Overall Sustainable Design for an All-Electric Downtown Campus Center, a USGBC Regional Leadership Award, and AASHE campus sustainability achievement award, along with many others.
The campus has also been listed on Princeton Review Green College Honor Roll consecutively over the past few years. The honor roll comprises only 27 institutions nationwide that have received Princeton Review's highest possible Green Rating score. UC Merced is also recognized by the Sierra Club Cool Schools ranking, making the top 10 of the list consecutively the past few years for the coolest schools and greenest colleges and universities.
The campus will need to be recertified by AASHE every three years. Currently, the university is prioritizing scaling renewable energy and planning for a fossil-fuel-free net zero energy university.
"We would like to thank all of the members of our campus community for the transformational impact they are creating right here in our region that is making a difference as we set the example for the future," Sylvas said.