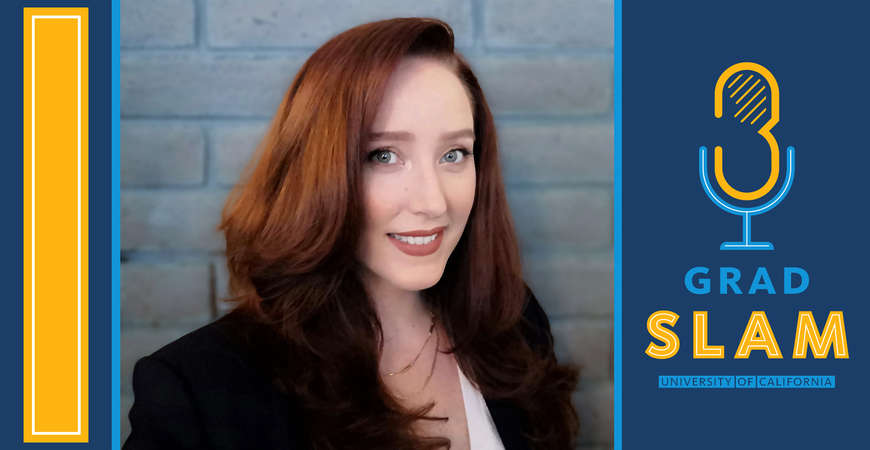 UC Merced's top 10 Glad Slam finalists went head-to-head earlier this month to share their research in three minutes, in a format meant to share their scholarly work in a manner that is accessible for the general public.
Quantitative and Systems Biology (QSB) Ph.D. candidate Jessica Wilson's presentation, "CBD: Wonder Drug or Dud," earned her the 2022 UC Merced Grad Slam Champion title, $5,000 grand prize and the opportunity to represent UC Merced at the University of California Grad Slam competition in May.
Environmental Systems Ph.D. candidate Marc Labata was awarded second place and $2,000, and third place and $1,000 went to Environmental Systems Ph.D. candidate Vicky Espinoza.
"We're proud of every one of our graduate student presenters, how incredibly passionate they are about their research and the care they took in communicating it to us," interim Associate Graduate Dean and Professor Asmeret Asefaw Berhe said at the conclusion of this year's presentations. "We applaud Jessica Wilson for her winning talk and look forward to her continued success against the nine other campus winners at the systemwide Grad Slam final next month."
Wilson started graduate studies at UC Merced in August 2017 after earning a bachelor's degree in biology with a chemistry minor from Fresno State. The following spring, she learned about the Grad Slam competition and promised herself she would participate.
"This is my first time going out and I won!" she said. "It's exciting and really validating."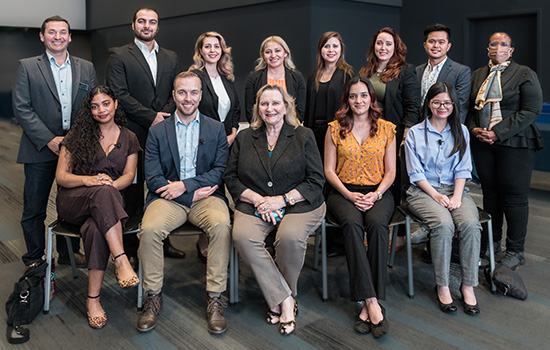 Wilson earned a master's degree in immunology at UC Merced and is now pursuing a doctorate in physiology in the QSB program. Her research in Professor Rudy Ortiz's lab focuses on the effects of cannabidiol (CBD) on hypertension and metabolism.
Metabolic syndrome is a pervasive condition affecting about 47% of the population in the Central Valley alone, Wilson said.
"It really is a problem," said the third-year graduate student from Upland in Southern California. "We don't really know what cannabis, or any component of cannabis, does in the context of such a pervasive condition like metabolic syndrome."
Interest in cannabis research has increased as it has become more accessible due to the shift in legislature and public sentiment toward cannabis use.
"I think we're starting to see the tide shift especially as cannabis becomes more accessible," Wilson explained. "People know more friends and family members who consistently take CBD for ailments."
Grad Slam challenges the UC's more than 50,000 master's and doctoral students to distill their research into three-minute talks, all with the goal of breaking down complex scientific and scholarly topics.
"It's a great exercise. It's a way to step out of your science bubble and remember you're not doing research to just impress your PI (principal investigator)," Wilson said. "You're doing it to help people."
The campus's final round panel of non-specialist judges included Shayna Bennett, 2021 UC Grad Slam champion and graduate student; Jorge Rodriguez-Mota, Associated Students of UC Merced president and undergraduate student; Jane Lawrence, former vice chancellor of Student Affairs and UC Merced supporter; Karen Merritt, former director of Academic Planning; and Samuel Traina, professor and former vice chancellor of Research and Economic Development and graduate dean.
The finalists received individualized coaching sessions with UC Merced Foundation Board Diplomat Jane Binger, Ed.D., who has extensive experience coaching. Binger and her husband, Robert Bernstein, M.D., are also generous donors to the campus competition.
Everyone is invited to watch the UC Grad Slam final via livestream beginning at 11 a.m. Friday, May 6, and cast a vote for Wilson for the People's Choice Award.
It's a great exercise. It's a way to step out of your science bubble and remember you're not doing research to just impress your PI.