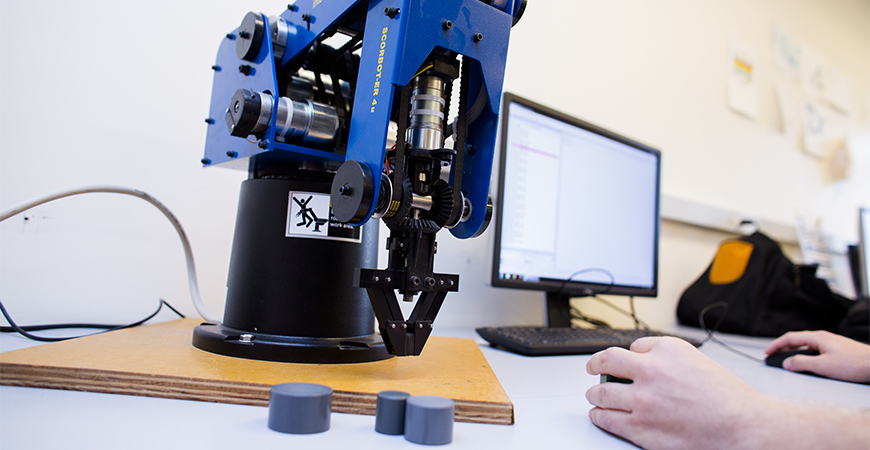 UC Merced's graduate programs in engineering had a strong showing in U.S. News & World Report's 2020 edition of Best Graduate Schools, released today.
Overall, UC Merced's School of Engineering is ranked No. 134 in the nation, after debuting at No. 140 in 2015.
"We are gratified by the growing national recognition for our engineering programs and the rapid progress we've made in our relatively brief campus history," Vice Provost and Dean of Graduate Education Marjorie S. Zatz said. "It's exciting to see the growing strength of our interdisciplinary graduate education model, as witnessed by our rankings from national publications and organizations.
"The faculty of our three schools — Engineering, Natural Sciences, and Social Sciences, Humanities and Arts — work together to provide course offerings and research experiences that transcend disciplinary boundaries and attack important real-world problems, and that support our mission to ensure the excellence of graduate education."
While the overall engineering graduate school ranking held steady from last year's, some individual programs moved up or debuted this year.
UC Merced is No. 105 in U.S. News & World Report's Computer Engineering rankings, its first time on the list, and rose to No. 121 in Mechanical Engineering.
"Our engineering programs' steady appearance in U.S. News rankings continues to enhance UC Merced's reputation across the nation and world," School of Engineering Dean Mark Matsumoto said. "The fact that previously ranked programs maintained or moved up this year is a testament to the outstanding caliber of work of our faculty."
Three engineering faculty members were recently honored with National Science Foundation's (NSF) prestigious Faculty Early Career Development (CAREER) Award. Professor Min Hwan Lee is the first for the mechanical engineering department to receive the award; Professor Anand Subramaniam is the first bioengineering faculty member to receive the award; and computer science and engineering Professor Sungjin Im joins previous NSF CAREER awardees in CSE professors Miguel Carreira-Perpinan, Alberto Cerpa, Dong Li, Shawn Newsam and Ming-Hsuan Yang.
Our engineering programs' steady appearance in U.S. News rankings continues to enhance UC Merced's reputation across the nation and world.
The university also appeared in four other rankings — Bioengineering, Environmental/Environmental Health Engineering, Electrical/Electronic/Communications Engineering, and Materials Engineering.
The School of Engineering now offers five engineering graduate programs — Bioengineering; Electrical Engineering and Computer Science; Environmental Systems; Materials and Biomaterials Science and Engineering; and Mechanical Engineering — and two management programs: a Ph.D. program in Management of Complex Systems and the Master of Management in Innovation, Sustainability and Technology.
U.S. News ranks business, education, engineering, law, nursing and medicine graduate programs annually, while other disciplines and specialties in the sciences, social sciences, humanities and other areas are ranked periodically.
In last year's graduate program rankings, UC Merced debuted in Chemistry (No. 122), Mathematics (No. 144), Physics (No. 146) and Biology (No. 175). Two years ago, the Psychology program ranked No. 90.
"With the exceptional growth that we are experiencing and the high quality of our students and faculty, I am confident that our graduate programs will continue to rise in rankings," Zatz said.