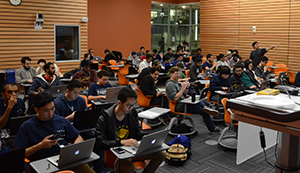 Computer enthusiasts from all areas of study gathered at UC Merced earlier this month for the second annual HackMerced competition.
Nearly 400 high school and university students from all over the world comprised more than 40 teams vying for bragging rights and $7,250 in prizes. The goal? Design, create and present a new and innovative app in under 36 hours from start to finish.
In addition to loads of swag for participants and enough refreshments to keep them energized throughout the weekend, mentors were present to help the teams and lead programming workshops for those with less experience.
UC Merced student teams took home top two places in this year's competition:
First place: Gregory Mellos, Ryan Rivas, Patricia Kaye Mendoza and Robert Porcella for Triggerbot, a twitterbot that analyzes the offensiveness of a photo.
Second place: Miguel Hernandez and Maxime Moison for Cat-Fé, an app that allows users to place a mobile order for food and drinks from the Lantern.
The HackMerced student group partners with Major League Hacking, a corporation whose goal is to inspire students to be creative and innovative with technology. Major League Hacking has organized more than 200 hackathons and inspired more than 65,000 students worldwide.
Students involved with HackMerced bring leadership and experience from other clubs on campus, such as the Association for Computing Machinery, Business Society, Drone Research Society and Engineering Vanguard.