Five UC Merced students earned recognition and gained valuable experience at a recent UC systemwide undergraduate research symposium.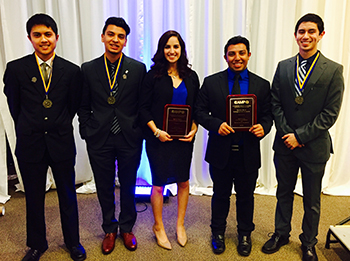 The California Alliance for Minority Participation (CAMP) is a statewide initiative funded by the National Science Foundation to support underrepresented minorities in science, technology, engineering and math (STEM) fields. Of the 99 students representing nine UC campuses who participated in the symposium, 20 received outstanding research awards, and a quarter of those came from UC Merced.
"This is a true testament of the hard work and caliber of our first-generation students and the amazing mentorship they receive from our faculty," said Jesus Cisneros, director of UC Merced's Undergraduate Research Opportunities Center (UROC).
Special Merit awards were given to:
Christhian Gutierrez-Huerta (major: applied math; faculty mentor: Professor Zhong Wang); and
Victoria Arias (applied math; Professor Roummel Marcia).
Three UC Merced students received Honorable Mention awards:
Bryan Rangel (biological sciences; postdoctoral fellow Tanja Woyke);
Kyle Kabasares (physics; Professor Linda Hirst); and
Christian Montes (applied math; Professor Arnold Kim).
In addition to earning a top award for her presentation at the conference, Arias was encouraged to publish her work and was offered a summer internship at UC Santa Barbara.
"I didn't realize the full potential of my research until I went to the CAMP symposium," Arias said. "Being the first freshman to be accepted into a UROC program was intimidating, but has given me an unforgettable experience."
As part of CAMP, Gutierrez-Huerta and Rangel participated in an internship at the Joint Genome Institute (JGI) in Walnut Creek in summer 2015. The internship was part of an ongoing partnership between the UC Merced CAMP program and the Department of Energy's Joint Genome Institute to promote diversity and inclusion in science and research.
"CAMP is an incredible, student-empowering research program," Gutierrez-Huerta said. "This program has given me self-confidence, applicable research skills and a hint of what graduate school is like."