Giving Tuesday UC Merced, the campus's annual campaign to raise money for scholarships and fellowships, generated more than $700,000 in about 24 hours. Close to 750 individuals — including students, staff, faculty, alumni and community members — participated in the campaign, and many donated more than once throughout the day. This concerted effort led to the third-annual event raising more than twice as much as last year.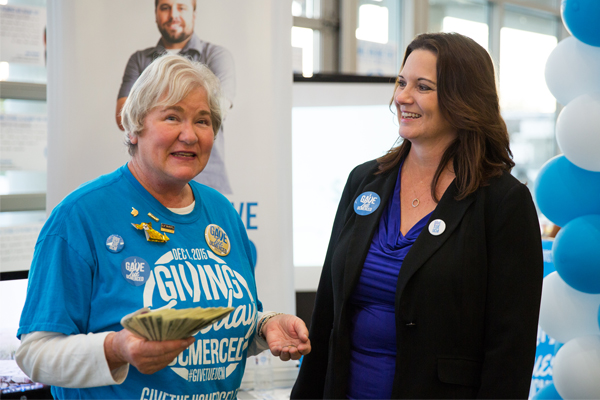 In addition to their desire to help out students, many donors were inspired by matching funds from Wells Fargo and Foster Poultry Farms. Every gift made to 14 featured funds during the Nov. 29 campaign was effectively quadrupled thanks to the generous 3-to-1 match provided by the lead donors. Visitors to "Give Tue HQ," the giving headquarters set up in the Lantern on campus, found motivation in the match — and in fellow donors.
UC alumna and longtime UC Merced supporter Carolyn Vara found a creative way to maximize the matching funds. She showed up to Give Tue HQ with more than $500, and spent hours there talking to students about the importance of the campaign, and using her cash to add an additional match to their contributions.If a student had $1, Vara would match it with $1 of her own, and the 3-to-1 match then turned that $2 into $8. If a student had $5, it would turn into $40. Vara, a University Friends Circle (UFC) and San Joaquin Valley UC Alumni Network member, quickly exhausted her initial $500 and dipped into reserves.
"As a longtime friend of the university, Carolyn understands the impact of matching funds," Vice Chancellor for Development and Alumni Relations Kyle Hoffman said. "What she did on Giving Tuesday, though, provided members of our campus community with a live example. She showed everyone that every dollar and every donor counts at UC Merced — that there is no gift that's too small."
In the three years of UC Merced's Giving Tuesday campaigns, the matching funds from Wells Fargo and Foster Poultry Farms have helped to generate more than $1 million in scholarships.
This year, a matching gift from an anonymous donor also helped to endow the Will Shadish Memorial Graduate Student Fellowship. The fund received more than $16,000 in donations on Giving Tuesday, which generated more than $67,000 with the match. The Shadish fellowship, created by faculty members in honor of the founding professor who died earlier this year, will provide financial support to graduate students who show excellence in teaching and research.
The biggest recipient of the campaign was the UFC Scholarship, which generated more than $101,000 after matching funds were applied. Of the academic schools' scholarship funds, the School of Engineering was tops with $25,210, a dramatic increase over the $9,476 raised in 2015 and $3,420 in 2014.
The totals exceeded the hopes and expectations of Dean Mark Matsumoto.
"I am very pleased by the scholarship support we received on Giving Tuesday," he said. "These funds will allow us to help well-deserving, financially limited students continue and concentrate on their studies."
To make a year-end gift to UC Merced, please visit giving.ucmerced.edu or for more information on giving, email giving@ucmerced.edu.