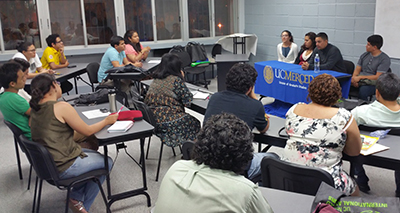 Four UC Merced graduate students got a rare opportunity to establish and strengthen relationships between the campus and the National Autonomous University of Honduras (UNAH) this summer.
The students — Danielle Bermudez, Maria Mora, Rodolfo Rodriguez and Alejandro Zermeño — traveled to Honduras to present their research to the third National Conference of Honduran Sociology at UNAH.
Funding came from a grant awarded by the United States Embassy in Honduras as well as the Sociology and Interdisciplinary Humanities graduate groups.  The trip was the first step in an agreement of academic cooperation with UNAH signed by UC Merced Chancellor Dorothy Leland in January. The agreement was facilitated in part by sociology Professor and Chair Paul Almeida, a Fulbright Scholar who assisted UNAH as it developed and launched its master's program in Sociology this summer.
The exchange was also part of a larger effort to build a Mesoamerican studies center at UC Merced, further establishing the campus as a driver of socially engaged research that addresses issues of critical interest to the San Joaquin Valley community.
The UC Merced students were part of a featured session during the conference titled "Immigration, Social Movements and Culture." The students gave their talks in Spanish to a packed room of 70 UNAH faculty members, undergraduates and graduate students. They also led a presentation on graduate school strategies with the the first cohort of UNAH sociology MA students.
"I feel honored to have had the opportunity to visit Honduras, present at the conference, and just as importantly, to have been able to share my experiences as a Chicano sociology graduate student with the students and professors at UNAH," Rodriguez said.
The four students have related research interests centering on issues of indigenous culture, immigration, social activism and social memory.
"It was inspirational to see the way UNAH students engaged with their community," Mora said. "We were honored to share our experiences with UNAH students and help them begin to think about their own research projects."
Mora, Rodriguez and Zermeño are members of the Sociology graduate group, and Bermudez is a student in the Interdisciplinary Humanities group.
The interdisciplinary exchange at UNAH benefited both groups — the Honduran students and faculty members learned more about sociology research in the U.S., and the Merced students learned about academic life in Central America, hearing about some of the most pressing research questions and social problems in the region.
"The feedback I received from UNAH students and faculty was very helpful because it gave me a different perspective in how to further develop my own research projects," Zermeño said.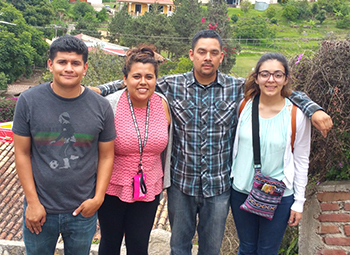 "Overall, this was an excellent opportunity to build transnational networks of exchange with professors, students and community in our fields of study," Bermudez said.
Almeida anticipates inviting Honduran students and faculty members to UC Merced for a similar exchange of research and ideas in the near future.
"I am thrilled that our students were able to participate in this conference and represent UC Merced in Honduras," Vice Provost and Graduate Dean Marjorie Zatz said. "This was a wonderful opportunity for them and a big step forward in our scholarly collaborations with UNAH in particular, and Central America in general."
These initial exchanges are a first step in establishing stronger ties between UC Merced and Mesoamerica, the region and cultural area of the Americas that extends approximately from northwestern Mexico to Belize, Guatemala, El Salvador, Honduras, Nicaragua and northern Costa Rica.
Almeida and his colleague Professor Arturo Arias founded a Mesoamerican Research Group that focuses on themes of indigeneity, inequality and social change. In its first few meetings, people from several disciplines have participated, including literature, anthropology, sociology and public health.
The group is also reaching out to UC Merced faculty members from the School of Natural Sciences and the School of Engineering who maintain research projects in Mexico and Central America on topics such as food security, infectious diseases, oceanic diversity, water, material sciences and climate change.
Almeida and Arias have been working to secure internal and external funding to launch a more robust Mesoamerican Studies Center (MASC) that would support UC Merced faculty, undergraduate and graduate research and become a resource for staff and the community.
"More than 90 percent of all Latinos living in the Central Valley are Mesoamericans — a high percentage of them of indigenous origin — and more than half of UC Merced students identify as Latino," Arias said. "UC Merced is the obvious place to create a hub for Mesoamerican studies."