Longtime campus contributor Wells Fargo is giving a $100,000 grant to help students at the University of California, Merced, design technologies that address some of the Central Valley's water, energy and food needs.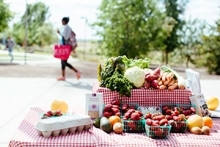 Wells Fargo's Clean Technology and Innovation grant is part of a focused effort to support technology advancements for a clean energy future.
UC Merced's School of Engineering will use the money for the Water, Energy, Food Challenge — a student-led competition in which student teams develop preliminary designs to solve challenges set forth by community members and agriculture companies.
Student teams present their technologies at the annual Innovate to Grow competition held toward the end of the spring semester. Finalists receive prizes, places in the UC Entrepreneurship Academy and invitations to join UC Merced's new startup incubator, launching this year.
The challenge is part of the senior Innovation and Design Clinic (IDC) program, focusing on the critical nexus of water resource management, energy efficiency and sustainable agriculture.
"Investing in UC Merced's Water, Energy, Food Challenge makes sense because it aligns with Wells Fargo's vision and values to foster economic development and accelerate the global green economy," Wells Fargo Central Valley President Sandy Raco said. "Additionally, this program provides Valley students the opportunity to learn about real-time issues affecting our community and, more importantly, take steps to help solve them."
This year's teams will work with clients including the California Department of Water Resources, which needs an automated ion-exchange system for water production; the San Francisco Public Utilities Commission, which wants a low-flow siphon and spillway hydraulics for Pilarcitos Dam; and D&S Farms, which wants an automated system for sweet-potato planting, among many others.
School of Engineering interim Dean Erik Rolland said the school plans to aggressively expand the IDC into a complete ecosystem for research, teaching and practice around innovation and entrepreneurship, connecting with local industry, the community and other entities to bring clean tech and other research inventions out of UC Merced's labs to benefit the region at large.
Wells Fargo's Clean Technology and Innovation grant program began in 2012 as part of the company's commitment to provide $100 million to environmentally-focused nonprofits, colleges and universities by 2020. The program's goal is to inspire innovation from entrepreneurs and fund research entities working on critical environmental issues. 
UC Merced shares that goal and conducts significant outreach in the community to identify partners with projects that need solutions by student teams. 
"Through this project, we are not only providing opportunities for these students to address real-world problems that will improve the region in which they live," Rolland said, "but we are engaging them in improving the quality of life for humanity."