Submitted by tkubo on Dec. 12, 2014
Ashlie Martini's fundamental tribology lab is making its mark in the world of academia. The lab has averaged four awards per year dating back to its inception at UC Merced in 2009.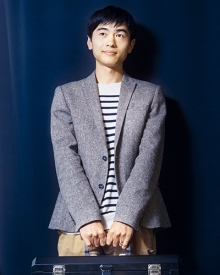 Most recently, Zhijiang (Justin) Ye, a mechanical engineering student pursuing a Ph.D., earned a $3,000 research scholarship from the Northern California Society of Tribologists and Lubrication Engineers (STLE).
This is not the first time STLE has rewarded Ye's efforts. He received the 2013 Young Tribologist Award and took first place in student poster competitions at the 2012 STLE Annual Meeting and the 2011 International Joint Tribology Conference, which was co-hosted by the STLE and the American Society of Mechanical Engineers.
"Justin is an outstanding researcher who has already contributed significantly to our understanding of the fundamental processes that occur at sliding interfaces," Martini said. "I look forward to the impact he is going to have on the scientific and engineering communities in his certainly very bright future."
Ye completed his undergraduate degree at Beihang University in China and has a master's degree from the University of Minnesota. Martini's research drew Ye to UC Merced, where the lab group uses molecular dynamics simulation to better understand the materials-driven mechanisms underlying surface and interface phenomena at an atomic scale.
"One aspect of our research is studying the friction and wear mechanisms of solid lubricants, which are important for their ability to reduce friction and surface wear to save energy while increasing machine lives," Ye said, adding that the STLE scholarship helps further that research. "This gives me the opportunity to explain our work at more conferences, which allows others to understand that our study can have a huge impact on science and engineering."