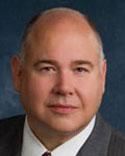 Title:
Principal and Registered Patent Attorney
Advisory Bio:
Brad Scheer is a Principal with the law firm of Schwegman, Lundberg, & Woessner (SLW); SLW is one of the largest patent law firms in the world with offices both in the US and overseas. Brad is a registered patent attorney with experience in technical litigation support and preparing and prosecuting patent applications in a range of technologies, including semiconductor device physics, semiconductor processing, semiconductor equipment, integrated circuits, videoconferencing, and medical devices. Prior to becoming a patent practitioner, Brad had over 15 years of research and development, engineering, and management experience. He has ten issued patents in the semiconductor field, has contributed papers to more than 30 semiconductor industry publications and peer-reviewed journals and was a featured speaker at various domestic and international-technology venues. Additionally, he served two consecutive terms as Chairman of the Industrial Advisory Board for the graduate school of engineering at Arizona State University and has served in various leadership positions with SEMI, SEMATECH, and ASTM. Brad was also an Academic Associate in the School of Engineering at the University of California – Merced, where he taught intellectual property law for engineers and scientists for eight years. He continues to serve at UC-Merced as a member the school's Engineering Advisory Board and the Mechanical Engineering External Advisory Board. Additionally, Brad is a member of both the Dean's Advisory Board and the IP Advisory Board for Lincoln School of Law and has served on the 19-member editorial board of the American Intellectual Property Law Association (AIPLA) Quarterly Journal.
Affiliation:
Schwegman, Lundberg, & Woessner, P.A.