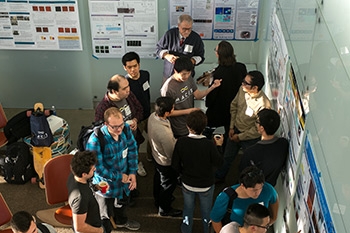 More than 70 people learned about the research and education opportunities offered by UC Merced's new Merced nAnomaterials Center of Energy and Sensing (MACES) during an open house Dec. 4.
MACES, established earlier this year with a $5 million grant from NASA, is intended to benefit current and future students and contribute to NASA's missions. The open house drew a diverse mix of participants, including undergraduate and graduate students, faculty members from colleges throughout the state, and high school teachers from Fresno, Clovis and Merced.
This event was designed to inform participants about the center's research and educational programs and encourage them to participate in opportunities with MACES faculty members: Professor Jennifer Lu, the center's director, and professors Sayantani Ghosh, Tao Ye, Anand Subramaniam, Vincent Tung and Min Hwan Lee.
Lu kicked off the event by providing an overview of the center's goals and how its programs will contribute to NASA's space missions, improve the quality of life on the planet, and train the next generation of scientists and engineers.
Each MACES faculty member also presented a summary of his or her work, ranging from energy conversion and storage in space to biosensors that could be used for future long-duration space missions and potentially to improve medical diagnoses here on Earth.
NASA Officer Dave Berger provided a brief summary of the NASA Armstrong Flight Research Center and summer internships opportunities there, and encouraged students who are studying science, technology, engineering or math (STEM) to apply for internships at any of NASA's 10 sites early in their college careers.
Ghosh, Lee and Petia Guergueiva, the STEM resource coordinator for UC Merced's School of Natural Sciences, met with science teachers from Golden Valley, El Capitan and Merced high schools and the Center for Advanced Research and Technology (CART) program in Fresno.
Beginning in the spring, MACES faculty members and students will organize several events aimed toward high school students, including NASA field trips and dinners with scientists, and will design educational modules focusing on the scientific discovery process for high school teachers to include in their curricula.
Tao, Tung and Subramaniam led lab tours during the open house, highlighted by state-of-the-art facilities like the Imaging and Microscopy Facility and the Stem Cell Instrumentation Foundry. A poster session showcased various research projects and offered opportunities to interact with MACES students and faculty members.
For more information on MACES, visit maces.ucmerced.edu or contact center Manager Mariana Hernandez at mhernandez273@ucmerced.edu.