News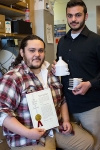 Two startup companies run by UC Merced alumni have taken big steps toward the kind of success many entrepreneurs can only hope for.
It's time for the annual celebration of one of the main missions of UC Merced, along with education and public service — research.

There are many labs at UC Merced where visitors can see students huddled over microscopes and petri dishes, using tweezers to extract and examine different items. But no one at UC Merced has ever seen the likes of what's going on in Professor Kara McCloskey's class.
Pages